Recurring false claim about Ukrainian wounded soldiers in a non-existent Burlenko hospital
This misinformation is being widely shared on social media, stating that "unconscious soldiers are lying in the Burlenko hospital, intensive care unit No. 56 on Hospitalna Street in Kyiv." The reality is that there is no Burlenko hospital in Kyiv, and this post was first disseminated by scammers.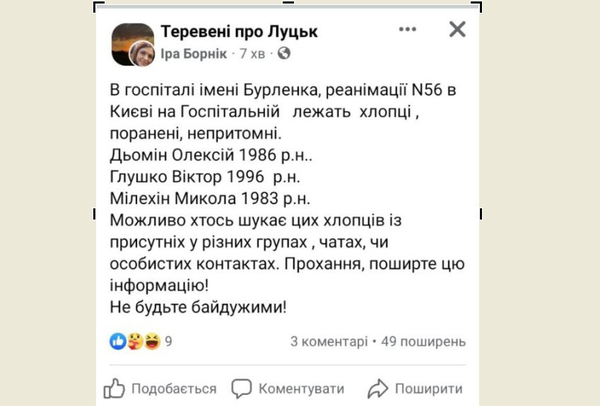 It's a recurring fake! Ukrainian Facebook is once again disseminating fake news that there are unconscious soldiers in a non-existent "Burlenko hospital, intensive care unit No. 56 on Hospitalna Street in Kyiv." The post includes specific names and encourages users to share the information to help identify these men. In just one day, this post was re-posted by over 9,200 people!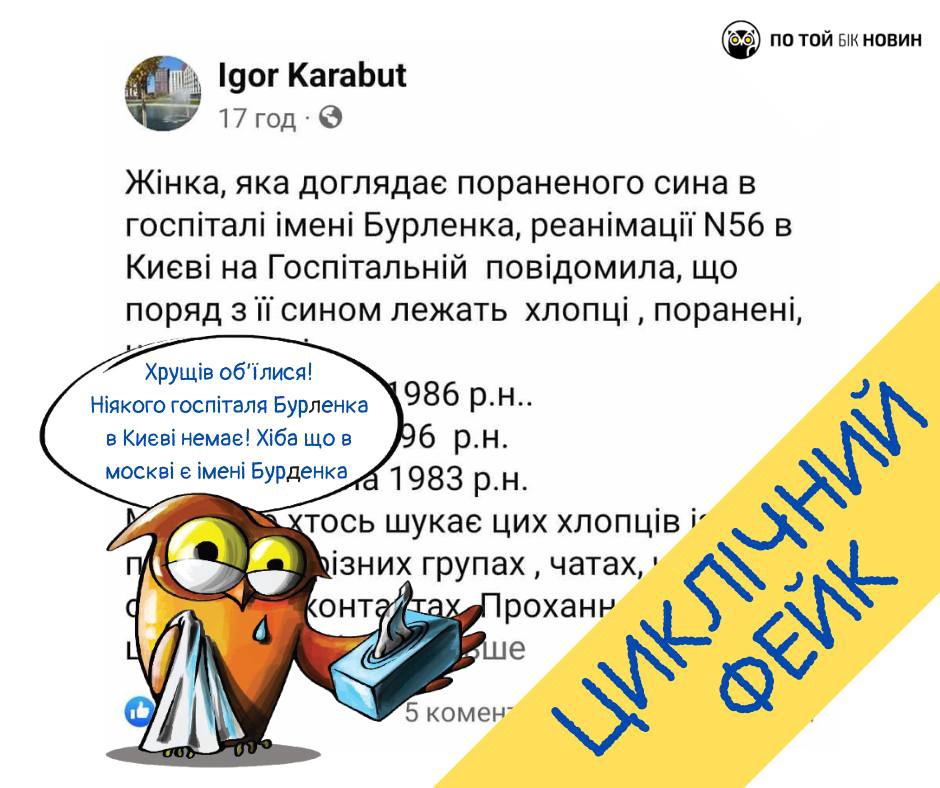 However, this claim is entirely false. Furthermore, its origins can be traced back to russia.  A similar post circulated on social media in russian last year.
 In fact, there is no Burlenko hospital in Kyiv. The official name of the Ministry of Defense medical facility located on Hospitalna Street is the National Military Medical Clinical Centre "Main Military Clinical Hospital," without a personal name. 
 But, there is indeed a hospital named after BurDenko in moscow. If you search for this post in russian, you will discover that it was actively shared back in January 2023, and it pertained to a moscow hospital.
In both the russian and Ukrainian versions of this post, it should be noted that it was originally disseminated by scammers, and then it was shared by well-intentioned but uncritical individuals. 
We managed to find information about a russian man, Aleksey Demin, who was actually in Moscow's Burdenko hospital with his mother. Prior to the full-scale invasion, funds were being raised for his surgery, and only later did he become a fake hero.
 So, dear useful idiots - all 9,200 of you - who shared this fake post! Not only did you contribute to defrauding Ukrainians of their money, but those funds actually went to russia. This means your funds will eventually bolster the russian budget, which is being used to finance the war against Ukraine.
Remarkably, the author of this fake post, Igor Karabut, hasn't deleted it, even after users clarified in comments that it was entirely false. Consequently, we can safely say that he's deliberately assisting scammers