A fraudster, signed on Facebook as "Anna Volunteer", is allegedly raising funds for the military
This person is actively engaged in fraudulent activities, prompting us to allocate an entire post to address her actions.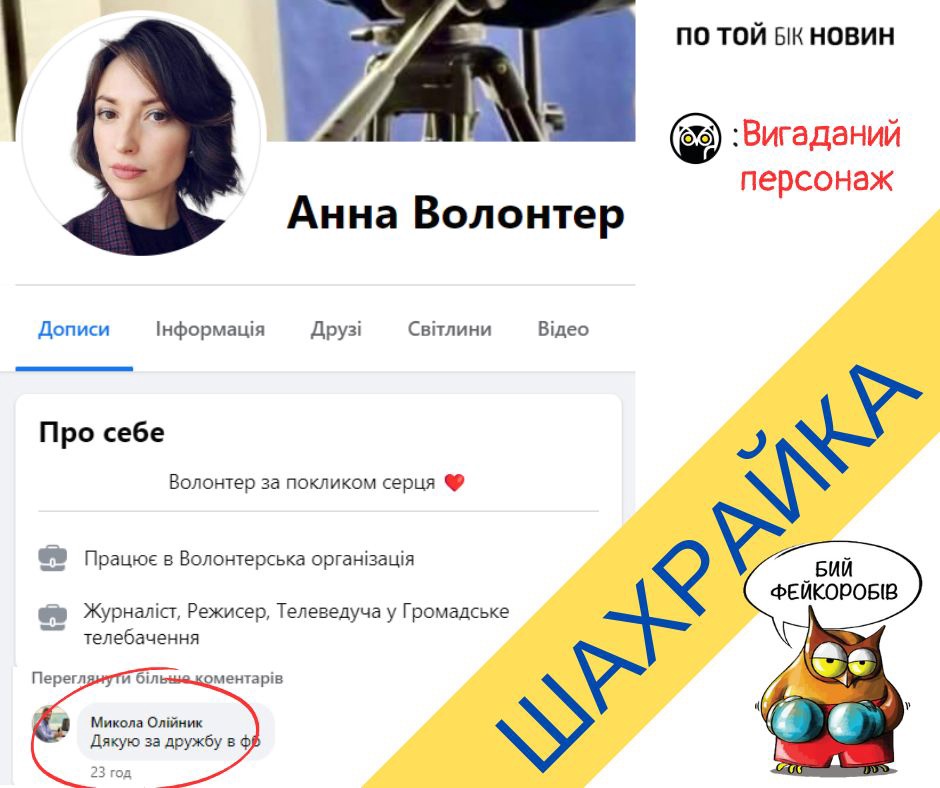 Every day, she publishes numerous donation appeals aimed at fulfilling different purposes, ranging from procuring vehicles for military use to securing funds for the treatment of an ailing young boy. She identifies herself as "Volunteer Anna, journalist, director, TV presenter at... Hromadske TV." The listed cards for collecting donations include the following: ...6922, ...3524, ...7392, ...8392, ...0874.
This character is entirely fictitious. Her attempts to construct a credible personality have exposed her. It's worth noting that we refer to this person as a female scammer, although it could potentially involve a male scammer or a group of criminals.
So, what makes us so certain of this?
In such instances, our initial step is always to run the photograph through reverse Google search. At this early stage, we discovered that the primary image she used didn't represent a Hromadske TV journalist at all. She adopted this false identity intentionally, likely in an effort to confuse the less attentive fact checkers.
The person in question is, in reality, a Russian "journalist" and "producer" named Anna Neiman. She has her own YouTube channel, where she discusses her so-called "successful achievements," and she maintains a presence on all major social media platforms. Examination of the photos and videos from these sources clearly confirms that she is person on the avatar photo of "Volunteer Anna."
Let's move on 
There are practically no comments under her posts. She engages with potential victims across various groups, including "Zhmerynka city announcements," "Ochakiv," "Illintsi city announcements," "***Tsarychanka*** announcements," and others, where she posts her fraudulent donation appeals. And she communicates there, within these groups.
However, we did discover a singular comment below one of her fake photos. A certain individual named "Mykola Oliynyk," who, based on the information available on his profile, claims to work with the Lutsk Military Garrison Hospital, specifically in military unit 4554, wrote to her as follows: "Thank you for accepting me as a friend on Facebook."
Much like the claimed profession of being a "journalist," this is intended to confound even the most skeptical persons. And why not? It appears to follow a logical pattern: she helps the military, and they thank her in return.
Yet, it's important to emphasize that "Mykola Oliynyk" is a fictitious persona, much like "Volunteer Anna". Our investigation revealed this similarity. Although "Mykola" has restricted access to his profile, preventing us from enlarging his photo, a tiny screenshot enabled us to launch a search on Google, which yielded the same image linked to a person named Kelvin Mike on Linkedin. Kelvin Mike is a certified orthopedic surgeon from Germany, specializing in sports injuries and joint replacement.
Finally, let's see how she gathers funds. 
For instance, she's currently soliciting donations for the medical treatment of Yevhen, who "received severe shrapnel injuries inflicted by an OZM-72 anti-personnel mine. Regrettably, both of Yevhen's legs had to be amputated above the knee. They are trying to preserve his arm, but the shoulder joint is shattered and five cm of bone is missing".
Unlike other scammers who employ this soldier's photo, "Volunteer Anna" has replicated factual information, including the individual's actual name and the nature of the injuries. The sole discrepancy lies in the use of her personal bank card for contributions (refer to screenshot 1 in the comments). You can find further details on the exploitation of Yevhen's name here.
In a separate post, she initiates a fundraising campaign for the treatment of a young boy named Nazar (see screenshot 2).
Once again, every piece of information provided is authentic, save for the bank card details. The genuine fundraising event was held here.
 Nazar's mother, Tetiana, maintains that she has ceased all fundraising activities. 
According to Olena Didenko, a fundraiser, the police initially declined to accept her report. However, the fundraising continued under a different identity, so Olena decided to re-submit her complaint to the Cyberpolice