How fraudsters swindle people in the name of charity
It's October 14, the Day of the Ukrainian Defender and the fundraiser for a special counter-drone system, the Shahed Catcher, continues in Ukraine, but fraudsters are not asleep. Recently, there has been a marked increase in the number of Facebook comments below posts by various international organizations and media outlets. Over the past two days alone, we've counted a dozen identical calls to join the project, which "directly connects donors with Ukrainians seeking material assistance." We've already deleted some of them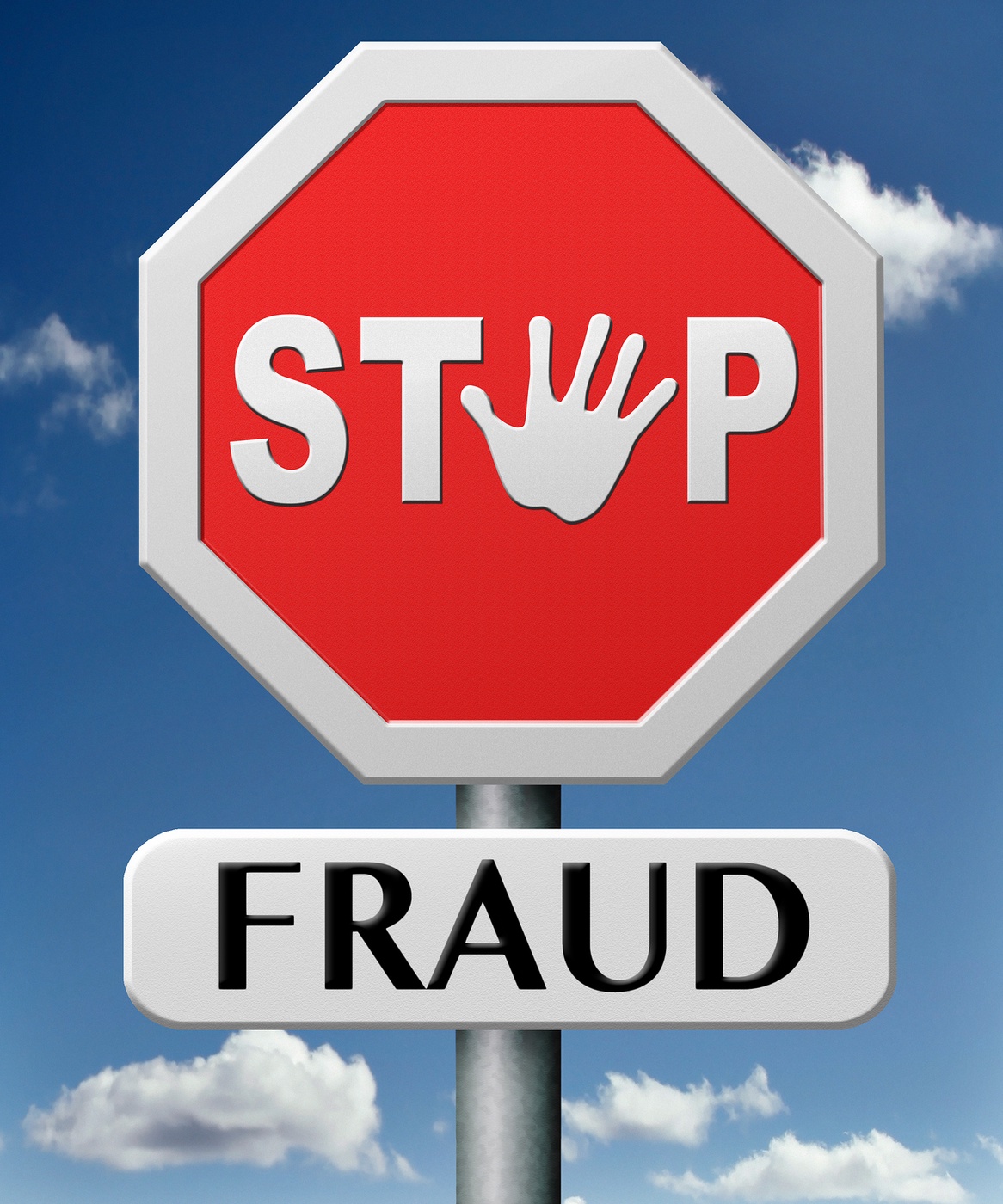 The contributors invite readers to open the website and fill out an application (leave personal data, e-mail address and phone number). After registering, the applicant will allegedly receive financial assistance from a donor.
The bots leave comments. For example, here are four of the most active ones:
https://www.facebook.com/profile.php?id=100081859283620
https://www.facebook.com/profile.php?id=100082210117326
https://www.facebook.com/profile.php?id=100081962959389
https://www.facebook.com/profile.php?id=100081917990792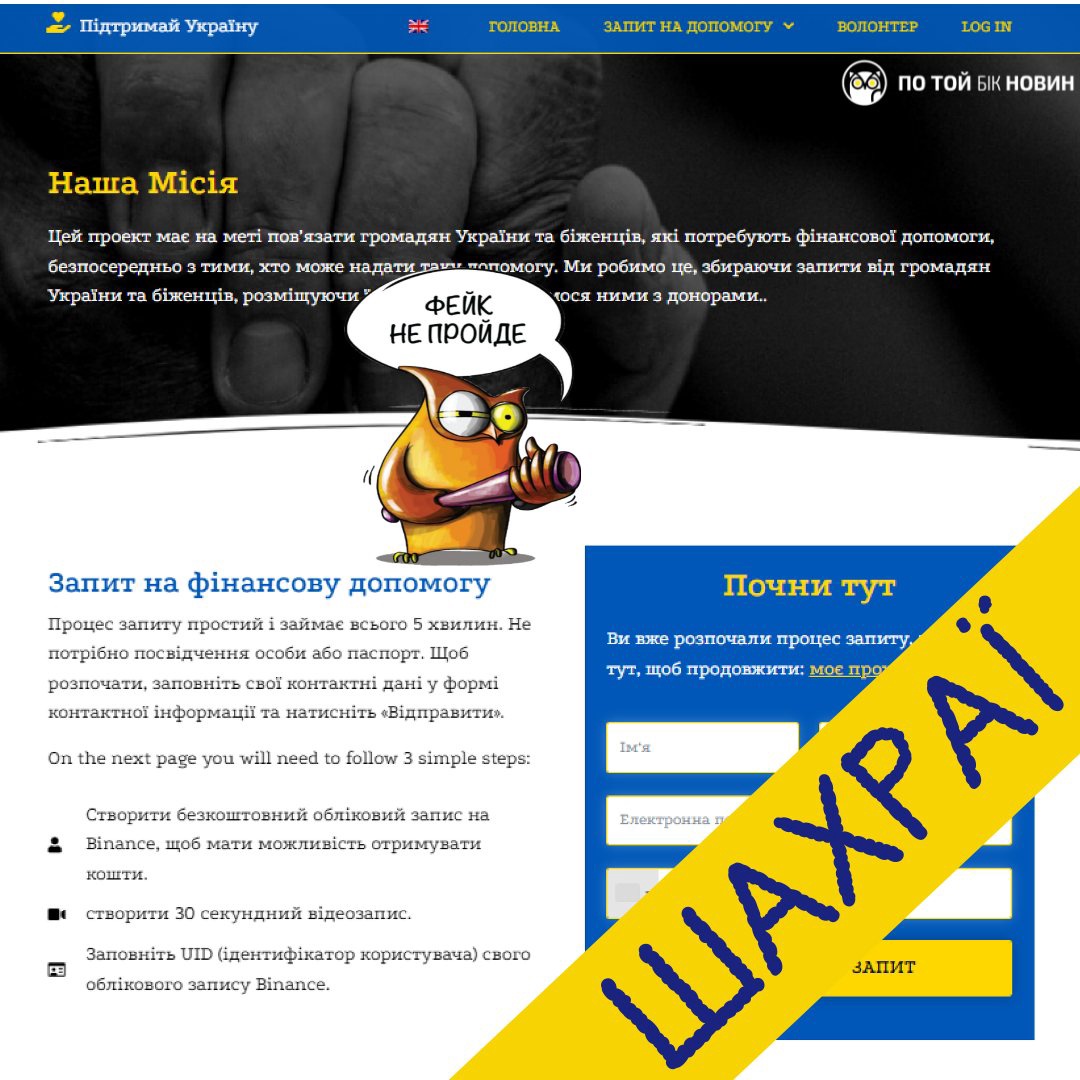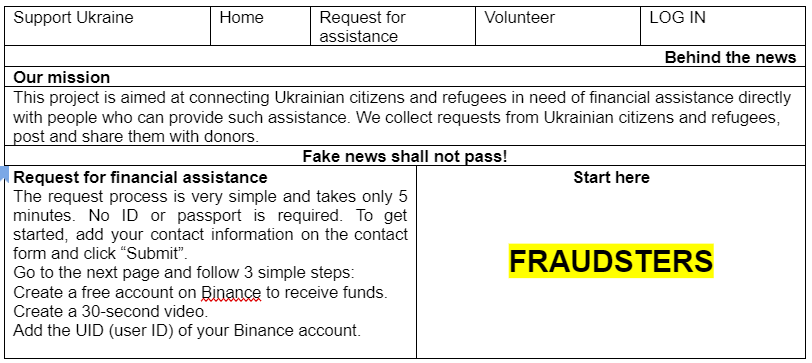 The videos are signed by people with English names: Christopher Bradford, Sherman Black, Brianna Fleming, and Joanna Palmer. The "About us" information on the pages is identical: place of birth, place of study, place of residence - London. All four accounts were created on the same day, June 10, 2022. Until September, none of the profiles published any information in their feeds.
But now, they've started posting actively, not re-posting, but writing their own information. This is usually done to make it look like the page is run by real people with real preferences. The bots' preferences include Stepan the Cat, the Kalush band, and Suspilne News.
The profile photos were taken in the same manner - close-ups. Search engines specializing in finding images on the Internet couldn't find these photos. They were probably taken from ThisPersonDoesNotExist.com, which uses artificial intelligence algorithms to create portrait photos (close-ups) that look as real as possible, but these people have never existed.
Although the account owners claim to be English, almost all posts on the pages are written in Ukrainian. The comments are also written in Ukrainian, but they contain a large number of grammatical errors, which indicates that the authors used a translation program.
The website promises Ukrainians that they can allegedly receive financial assistance. It's disguised as a charitable organization that "collects requests from Ukrainian citizens and refugees, posts them online and shares them with donors."
However, the website doesn't show the name of the organization, nor does it provide any contact information (phone numbers, physical/legal address, links to official social media accounts). Usually, official charitable organizations or their representatives have bank details or an official bank account. There's no information about this on the website.
Not to mention that charitable organizations will never spam comments on social media posts offering assistance. The only criterion for the page they target with their "offers" is the number of followers.
To receive financial assistance, you need to fill out an application and add personal data. We tried to get a "money assistant in 5 minutes" and filled out an application with a fake name, surname, e-mail and phone number - a set of numbers that are associated with a Ukrainian operator.
Our application was approved, but then we had to register an account on the Binance crypto exchange, undergo full verification using a Ukrainian document, and link a European phone number to the account. All this information, including the newly created account, has to be sent to the website, to all intents and purposes to find benefactors.
Apparently, the fraudsters have come up with a new phishing scheme, forcing Ukrainians to independently register and verify their accounts on a crypto exchange. Moreover, the registration for financial assistance masquerades as a program, which Binance promoted in April. At that time, Ukrainian refugees, who were forced to move to the European Economic Area (EEA), were issued a Binance Refugee Crypto Card, whereby they received $75 for three months. The program has now been terminated.
We also tried to contact someone responsible for the website. The algorithm is always the same - fake personal data. A greeting (in English) from a volunteer called "Anindita" appeared in the communication window: "Welcome to our site. If you need help just reply to this message; we're online and ready to help." We requested some information about the program, but had to wait ten minutes for a response.  Eventually, Anindita replied that "Basically we're a bridge between the donor and the recipient [of financial assistance] and didn't appear again