Imposters create fake Telegram channel to recruit women for dating sites
There's a Telegram channel that claims to be a job search platform. It goes by the name "eRobota", which is similar to the government program of the same name on the Diia service. The channel's logo mimics the original one, displaying a black and white design. It was established on April 28 and presently boasts 44,500 subscribers. To gain access, each subscriber needs to be approved by the administrator via a request. While the channel remains anonymous, it does provide contact information for advertising and job vacancies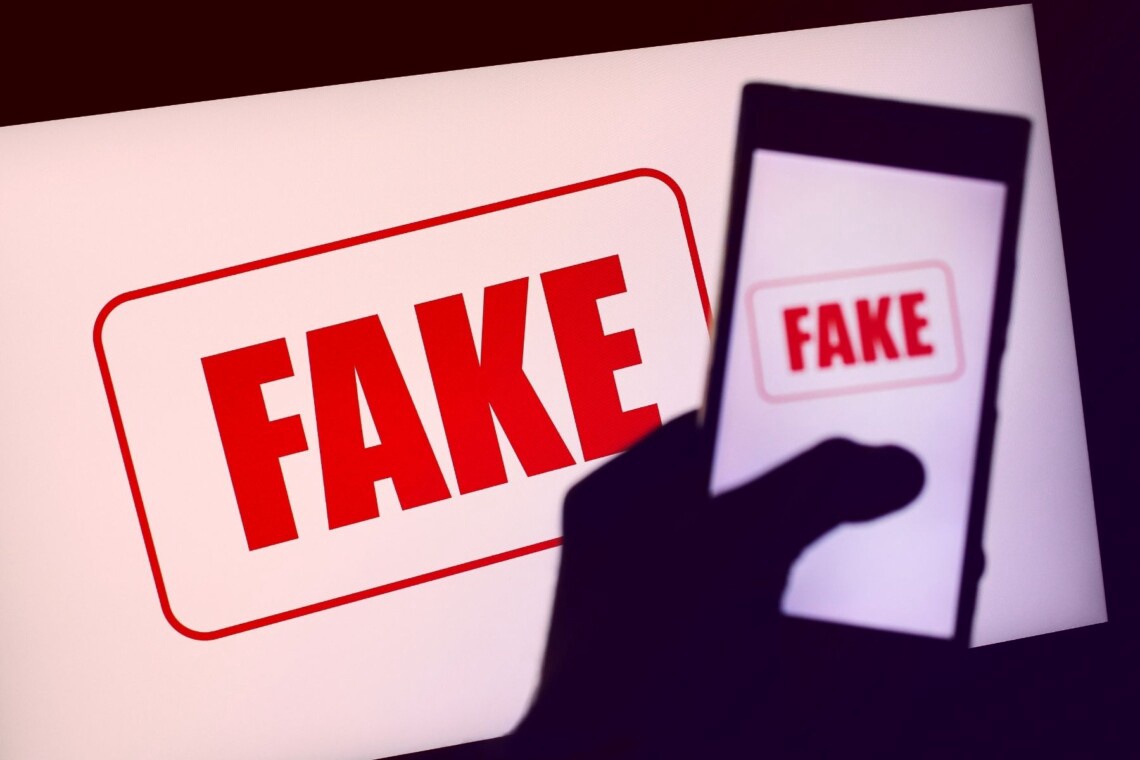 Currently, the fake "eRobota" channel comprises 45 posts, primarily consisting of job vacancies for job seekers. The impostors advertise positions in various fields, including cooks, cashiers, English teachers, programmers, and lawyers. Sales manager positions make up the majority of the offers.
Additionally, the channel features advertisements for investment seminars and IT courses for those interested in enhancing their skills. Almost all the vacancies listed on this channel can be found on well-known Ukrainian job search platforms. We reached out to the HR manager of one of the vacancies, who informed us that she was unaware of the "eRobota" channel. It's likely that her job posting, like many others, was simply re-printed without her knowledge.
The only original vacancies are those posted anonymously, which leads us to believe that this channel was created for that purpose. Two such vacancies are titled "social media page manager" and "manager". These posts lack information about the employer, with the sole requirement for candidates being between 17 to 40 years old and having computer skills. The alleged monthly salaries range from 14,000 to 35,000 UAH. In response to one of the job postings, we received an offer to maintain a girl's profile on a dating site.
"You will be taking the role of a girl, and your task is to engage in correspondence with men. All the girls on whose behalf you will be communicating are genuine and above the age of 21. They are fully aware of the correspondence and remain in contact with our agency," conveyed the individual identifying herself as Alla Mazur, claiming to be the HR manager. She further explained that employees are compensated "for each successful action, such as responding to a man's letter, engaging in a two-way chat, or facilitating a gift order through the website, among others." Discussions of intimate subjects are strictly prohibited. The salary is promised to be paid monthly, from the 10th to the 16th day of the preceding month, and can be received either through any bank card or in cryptocurrency. Candidates uncertain of their ability to fulfill the role are offered a training course.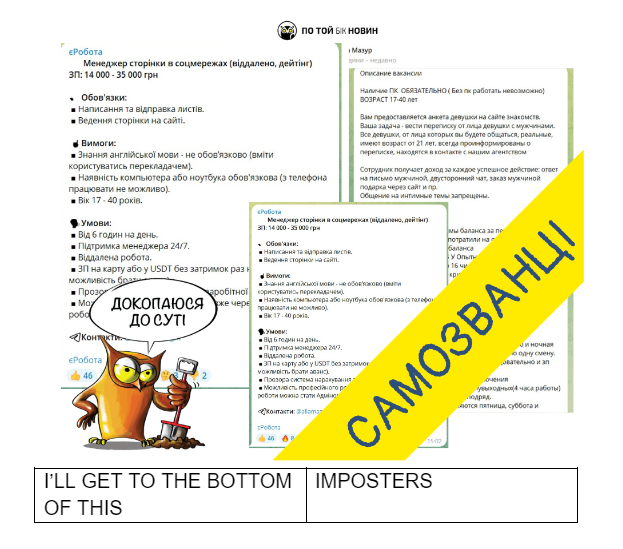 It's uncertain whether an employee will be "scammed" or not after working for a month and a half, despite the evident risks. Nonetheless, it's clear that this particular offer is "not suitable for everyone", making it challenging to disguise it as a regular job opportunity on a conventional job site. Therefore, in our opinion, the creation of a fake channel was specifically intended to recruit women for work on a dating site, while the inclusion of other vacancies reprinted from legitimate job search sites was meant to lend an air of authenticity.
The impostors promoted the fake "eRobota" through an advertisement on the Telegram channel "Trukha Ukraina". Here's an extract from the advertisement: "Nowadays, companies can hire individuals even without prior work experience. The only requirement is the ability to work from home and accept a salary of $500 or more per month."
We know that you're already aware of this, but allow us to reiterate that dubious job vacancies can be identified by the following indicators:
The responsibilities are not clearly defined. The advertisement's author employs vague language when describing the future work, such as promoting a social media page, writing texts, etc.

No company information is provided. Job seekers should be cautious if the vacancy text lacks details, such as the organization's address, number of employees, contact information, and links to the website or social media pages.

Unrealistic promises are made. If an excessively high salary is offered for a simple job, it's likely a red flag. Such vacancies often include phrases like "high income", "easy work", and "suitable for everyone"