​ Fake assertion about receiving donor blood only from "pure-blooded Ukrainians"
Pro-russian public media outlets are actively sharing photos of an alleged announcement by the DOC.UA medical online hub. According to the announcement, starting from March 1, 2023, only "pure-blooded Ukrainians will be eligible to donate blood, while foreign citizens will be prohibited from donating". These photos are accompanied by texts referencing "Ukrainian Nazis" and serve as supposed evidence that the "russian national liberation uprising in Sloviansk in 2014 was justified and had valid reasons"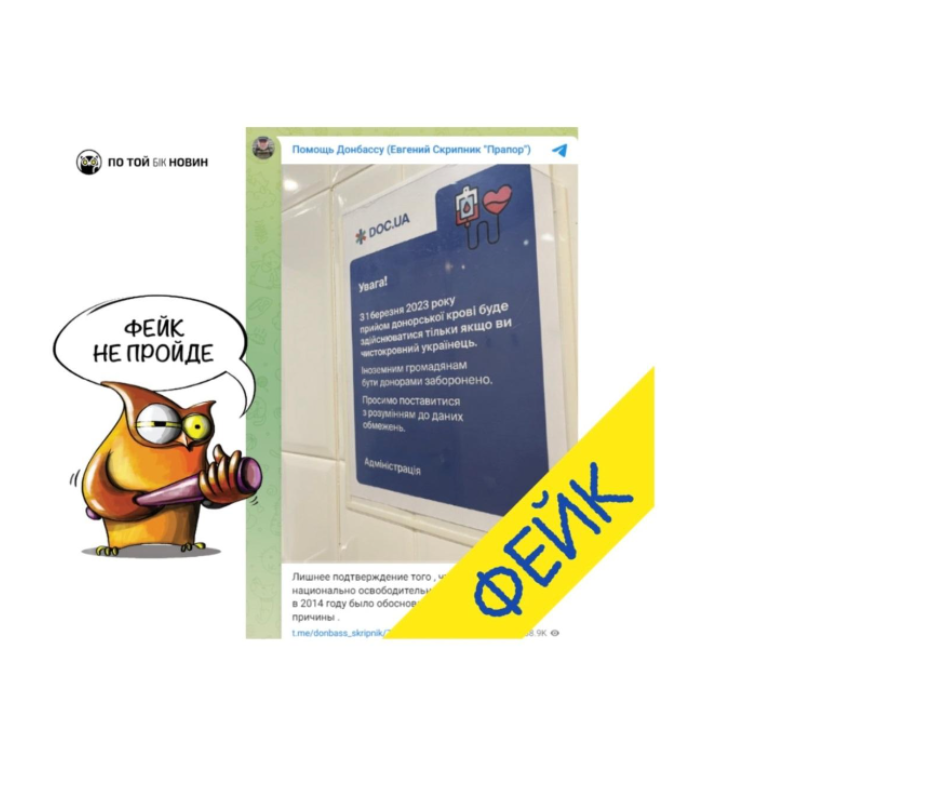 Ihor Liski, the chairman of the supervisory board of the Effective Investments group of companies, which encompasses DOC.UA, wrote on Facebook to debunk this alleged "announcement". According to him, he believes it to be the handiwork of black marketers and their rivals. He even pledged a reward for anyone who aids in locating these individuals, while also mentioning his intention to file a report with the police. 
"I understand everything that's going on; maybe someone is hindered by the development and growth of our company, and lacks the intelligence or inspiration to compete using the product and service... But we should understand that this can inspire someone to racial or nationalist hatred, and this will definitely play into the hands of the enemy!" wrote Ihor Liski. Later, Liski posted another update, stating that this "announcement" was not a result of competition but a mere PSYOP. Consequently, they wouldn't be reporting it to the police, but directly to the SBU.
"We would like to point out that we are not involved in collecting blood or any other donation-related procedures." In fact, Doc.ua serves as a database of medical institutions and various specialists such as psychologists, trichologists, cardiologists, gynecologists, etc.
Regarding the alleged ban on foreigners donating blood, it should be noted that both Ukrainians and foreigners with a permanent residence permit in Ukraine are eligible.
The only restrictions are as follows: "any legally capable citizen of Ukraine over the age of 18 who weighs at least 50 kg and has undergone an appropriate medical examination in a medical institution before blood donation and has no contraindications." These donor rights are clearly described on the website of the Ministry of Justice.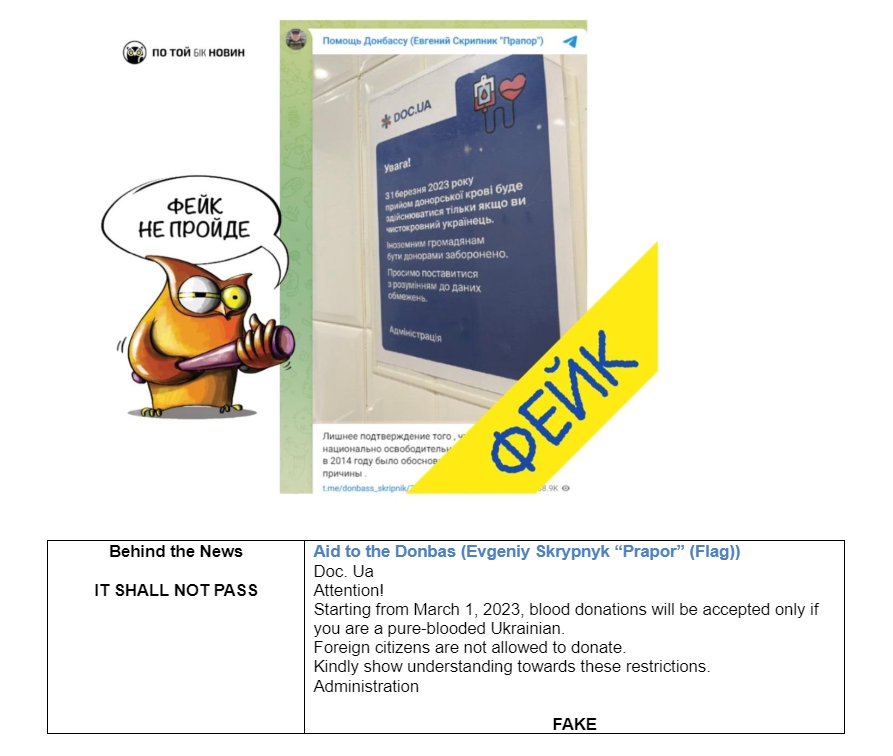 Regarding the concept of "pure blood", it appears that someone was inspired by the racial policies of Nazi Germany. However, unlike those times when extensive family lineage documentation was required, it remains unclear what kind of documents could possibly prove the "pure-blood" status of Ukrainians.
In December of last year, fake-news makers actively propagated a falsehood that "children in a school in the Cherkasy Region of Ukraine were being compelled to donate blood for the needs of the Kyiv army". Additionally, they spread lies that NATO countries had provided preserved blood for wounded Ukrainian soldiers, and that random testing by doctors revealed the presence of HIV and hepatitis in those donations