Manipulating a hero's death: who benefits?
Due to the rapid diffusion of inaccurate or false information during the pandemic, a special term has emerged to describe this phenomenon: infodemic. It is gradually gaining momentum in wartime as well: we see an invasion of similar and cyclical fakes aimed at spreading a depressive atmosphere among civilians and military personnel. Moreover, enemy propagandists work so skilfully that even Ukrainian patriots freely spread narratives that are favourable to russia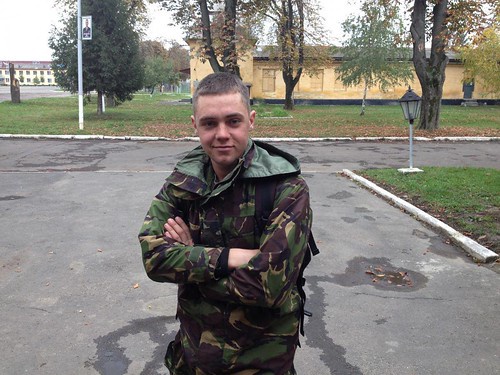 The latest is the story of the death of 23-year-old Denys Chabanchuk,
senior lieutenant of the 128 th Mukachevo Mountain Infantry Brigade.
"...He died in his sleep. He lay frozen in a cold cabin with broken windows,
his body covering his wounded comrade-in-arms, warming him with the
last ounce of body heat. All the while, his mother was dying in Lutsk,"
writes user Igor Tsaryk. His post was shared by 5,700 people, 13,000
thousand liked it, and thousands thanked the hero in the comments.
Denys did die a heroic death, but this happened on February 17, 2015,
when the troops were redeployed from Debaltseve… and not in 2022,
during the large-scale invasion, as the post insinuates.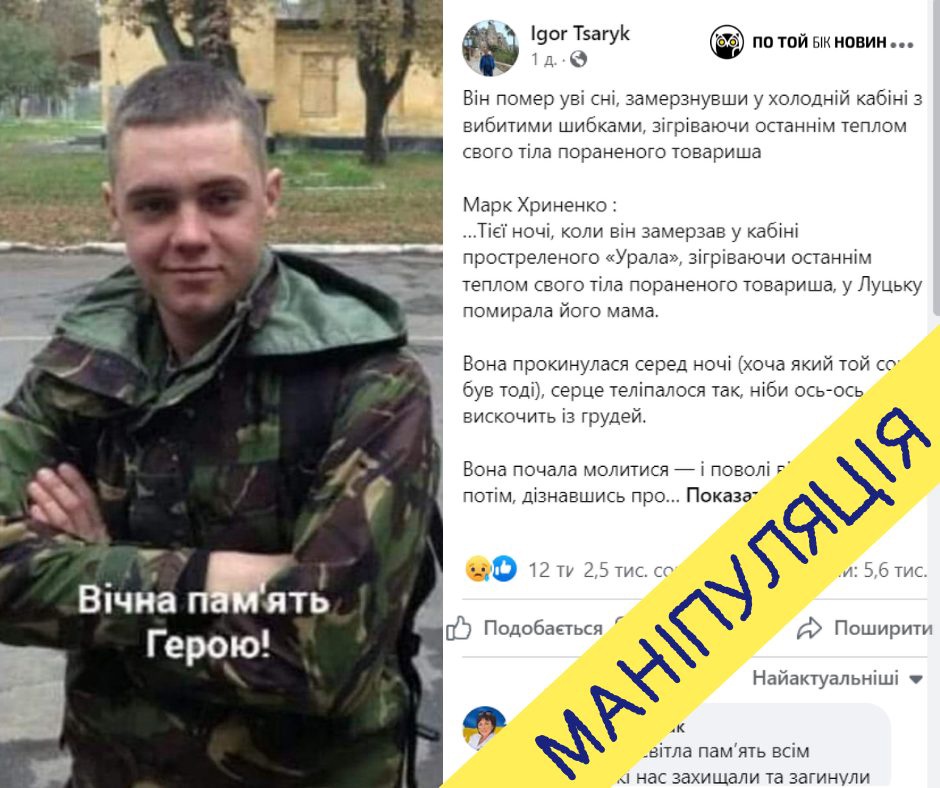 Text on the image: He died in his sleep. He lay frozen in a cold cabin with broken windows, his body covering a wounded comrade-in-arms, warming him with the last ounce of body heat. Mark Khrynenko: ...That night, while he lay in the cabin of the bullet- ridden Ural, warming his wounded comrade-in- arms with the last ounce of body heat, his mother was dying in Lutsk. She woke up in the middle of the night (although what kind of dream was it then?), her heart pounding as though it were going to jump out of her chest. She began to pray - and slowly…
According to the official version, events surrounding Chabanchuk's death
were somewhat different from Tsaryk's version. Denys was in a car that hit a mine near the village of Kalynivka (now Bakhmutsky District) and was
not able to leave the area controlled by russian-backed militants.
The russian terrorists sent a video of Denys's body to his relatives. But, it
was only in March that they managed to retrieve the body of the 22-year-
old defender. Denys was buried on the Alley of Honour in the village of
Harazdzha. He was awarded the Order of Bohdan Khmelnytsky, III
degree.
This version was confirmed by the Ukrainian Memorial volunteer project,
the Book of Memory of Fallen Ukrainian Defenders and the Book of
Memory of the Hetman Petro Sahaidachny Ground Forces Academy. And
even Wikipedia.
Interestingly enough, there are some comments under this post indicating that Denys died under different circumstances. However, other users condemn such suggestive remarks, saying that they don't need to be convinced that the soldiers who died in 2015 should be forgotten... We advise you to be especially vigilant when reading information on unknown accounts, especially if the posts trigger strong feelings. This is one of the main signs that you're being manipulated. Don't give in and don't share unverified information… even if thousands of other people have done it before you. The collective mind can also be wrong.
This is a cynical form of manipulation, dishonouring the memory of the fallen defender. Just imagine how painful it must be for Denys's family to read this. And, as this fake post was massively shared, it's likely that the family will see it.
As for Igor Tsaryk, we don't know why he dug up this story from the past. It's been circulating on the Internet since 2016. Initially, the date of death was even indicated on the photo, but it was removed in later shares. On February 16, 2016, the story was published in the newspaper Ukraina Moloda.
This is not the first time people have tried to evoke pity by spreading such stories.
In the last month alone, we have refuted reports about the following:
- a man with amputated legs, allegedly a wounded Ukrainian soldier, who sacrificed his health, but "no one even wished him happy birthday". In truth, the man is an American who suffered a rare illness in 2016.
- A tearful old man clutching a kitten. Behind him is a burned-out building and some firefighters. Users hint that this is a Ukrainian after a russian иmissile attack. However, in reality, the photo shows a resident of Turkey whose house burned down a few years ago due to careless handling of fire.
- Ukrainian soldiers allegedly sleeping under a blanket of snow due to lack of equipment. As in the two previous cases, the truth turned out to be completely different, cynical. They were actually Russian special forces during survival training ten (sic!) years ago