A beautiful photo of Swallow's Nest Castle in National Geographic, yet the country is unspecified
National Geographic, the popular international science magazine, shared a photo of Swallow's Nest Castle on its official Facebook page. This outstanding architectural gem is located near the village of Haspra, nestled in the Ukrainian Crimea. However, notably absent in the original post was any indication of the country where this photo was taken.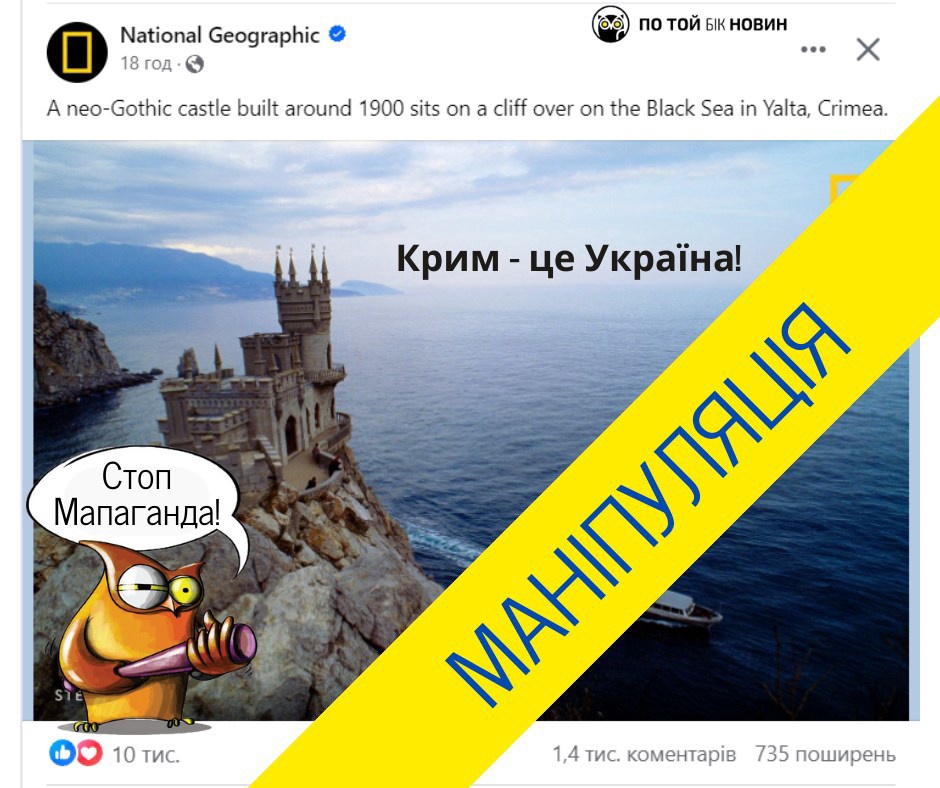 The international popular science magazine National Geographic published a photo of Swallow's Nest Castle on its official Facebook page. This architectural monument is located near the village of Haspra in the Ukrainian Crimea. The photo is undeniably stunning, but the editorial team at the magazine remains silent about the specific country this edifice is located in.

"The neo-Gothic castle, dating back to the year 1900, stands on a cliff overlooking the Black Sea in Yalta, Crimea," reads the caption accompanying the photo, which was captured by American photojournalist Steve Reimer.



Crime is Ukraine!

Stop Mapaganda!

MANIPULATION
We maintain that this caption is a form of manipulation. The National Geographic editorial team allowed this to slip through the cracks by failing to include the name of the country, specifically "Ukraine," in the caption.
The exception in this case becomes apparent when we examine the captions to other photos. For instance, there's a photo taken in the "Sumilon Island Marine Reserve on Sumilon Island, Cebu, Philippines." Another depicts "Arctic wolves howling in the tundra on Ellesmere Island, Nunavut, Canada." And yet another, "canyon walls reflected in the Rio Grande River in Bocillas Canyon near the Texas-Mexico border, Big Bend National Park, Texas, USA." As you can see, in each of these instances, the country's name is clearly mentioned.
 The motives for this spineless stance on the part of the magazine are rather transparent - they aim to avoid provoking the anger of the russian occupiers who still control the Ukrainian Crimea. 
However, they don't seem to care about the sentiments of Ukrainians, as evidenced by the numerous Ukrainians who have commented on the article to assert that Crimea is Ukraine. Yet, these readers have received neither a response nor a correction from the National Geographic editorial team. 
 If you wish to voice your opinion on the magazine's editorial policy, you can do so here.
 The russian propaganda narrative that "russia has never attacked anyone; russia always only defends its territory" is visually displayed by the portrayal of Ukraine in National Geographic materials, with the description that Crimea is a part of russia "claimed by Ukraine."
If you wish to find out more about this issue, please read the Stop Mapaganda project. It explores the deliberate or unintentional violation of national borders and the dissemination of such information to a wide audience, all with the aim of presenting a favourable image of their nation for the perpetrators.