A strange visitor strolled through Kyiv, but it wasn't a roe deer; it was a fallow deer
A strange animal visited a district in Kyiv. The police referred to it as a roe deer in a Facebook post, but we'd like to clarify why it was a fallow deer and why the distinction matters.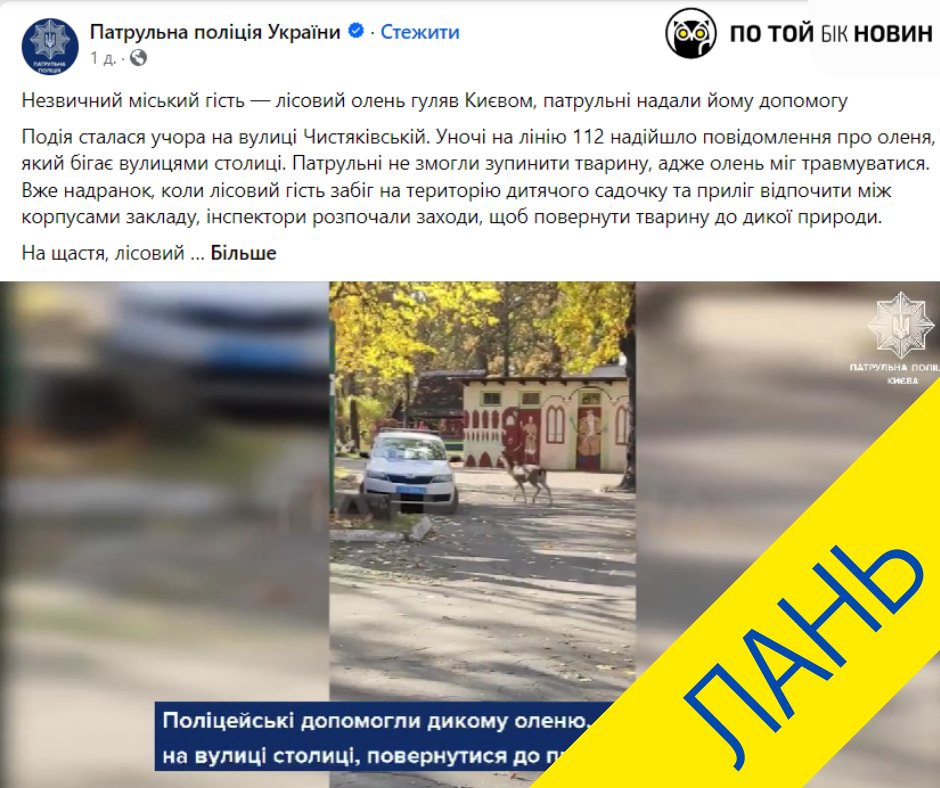 On October 25, the Kyiv Patrol Police received a report about a strange visitor in the capital – a wild deer was seen running at night on Chystiakivska Street. 
Patrol officers refrained from stopping the animal to avoid harming it. The next morning, when the forest guest ran into a kindergarten and then lay down to rest between some buildings, inspectors, in collaboration with the Wildlife Rescue Service, tranquilized the animal and safely transported it to the nearest forest.
 "We thank our colleagues for their coordinated actions and hope that the deer has returned home," wrote the patrol police.

 The actions of the patrol and rescuers are commendable. But, this isn't a roe deer but a fallow deer. 
It appears to be a small difference, indeed. While in everyday language, all animals of the deer genus are commonly referred to as deer, in this case, distinguishing between a fallow deer and a roe deer helps us understand how it ended up in the metropolis. 
According to Leonid Horobets, a doctor of biological sciences and author of Stromata  blog, deer sightings in the middle of Kyiv are not unheard of, but it's unusual because they're mostly wild in Ukraine. Fallow deer, on the other hand, are imported and are generally more accustomed to people. Some are bred in hunting grounds, and others are even raised in parks near residential areas. Therefore, a fallow deer in the heart of the city is a rare but not surprising occurrence. 
 From the point of view of evolutionary relationships, these are quite different animals. Fallow deer are further from roe deer than a wolf is from a jackal. But there's a difference when you meet a wolf or a jackal face to face, isn't there?" Leonid explains.