In the Odesa Region, a family on vacation by the sea stumbled upon a bottle containing a letter written by a boy from Crimea. Where's the proof?
A heartfelt narrative has been circulating on social media regarding the discovery of a bottle on the beach, holding a letter written by a young boy from Crimea. The letter conveys the following message: "We hope this letter will fall into the hands of Ukrainians. Our entire family awaits liberation from the Russians. Crimea is Ukraine. We're waiting for you eagerly. Myself, my sister Masha, our mother, and father."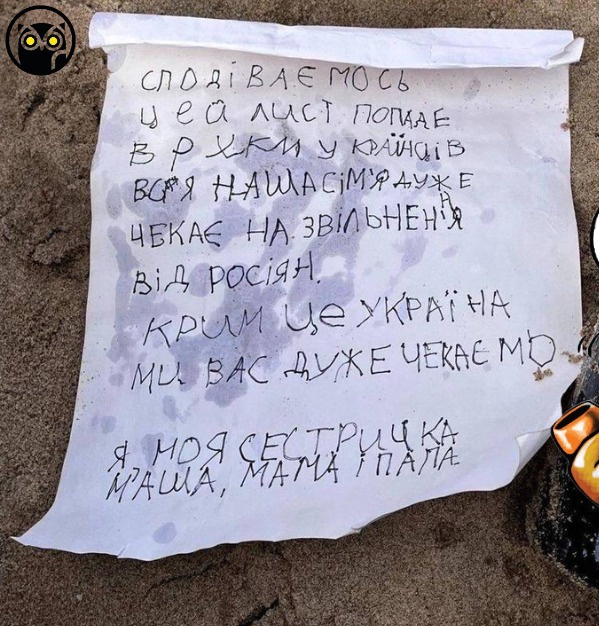 If you're expecting to find answers in this post, you might be disappointed. However, don't be too hasty to scroll past. First, we'll provide you with all the details that we've managed to uncover, which constitutes a primary source of information, at the very least. Second, it's possible that soon there will be other readers who can unravel this mystery.
What's this all about?

Recently, a heartwarming story was shared on social media about how a family on vacation by the sea in the Odesa Region found a bottle with a letter inside. Judging by the handwriting, it was written by a child: 
"We hope this letter will fall into the hands of Ukrainians. Our entire family awaits liberation from the Russians. Crimea is Ukraine. We're waiting for you eagerly. Myself, my sister Masha, our mother, and father." 
The post is illustrated with photographs where you can actually see the bottle and the note with this text. It was obviously written by a child. In addition, some posts quoted the people who had found the message:
 "We cried as a family. We truly wish for this boy to be aware that his message has reached us and that he will see the Armed Forces of Ukraine in Crimea."

These persons remain anonymous, with no provided names or faces shown, making it convenient to dismiss the story.
Where's this coming from:

This story was widely disseminated by hundreds of thousands of social media users, both from Ukraine and abroad, and it even made its way to far-off places like China. However, there's a catch: no one is referencing the original source. Instead, they are simply re-posting one another's accounts without any attempt to check the information. 
While some people do mention their sources, these are often far removed from the original sources of the story. We examined the media reports and found that the individual most frequently cited is Anton Gerashchenko, described as a "public figure, activist, and politician." 
We did find his post, but it was merely another re-post like all the other publications. Not to mention that this gentleman doesn't have a reputation for integrity.

In second place for cited sources is social media. You won't believe it, but here's how it appears: "photos of this note were circulated on the Internet." A little more and people will soon be falling for anything anywhere.
The third source is a Facebook user, Olha Orlyk. She did indeed write about this issue, but it became evident that she didn't know anything about the matter. We asked her some questions to find out more.

Hot stuff

In such cases, narrowing down your search by date can be very useful. This approach allowed us to discover the earliest posts of these photos. On August 22, activists from the civil society organization known as VymknyRosiiske (Turn Off Russian) shared this story. 
They themselves refer to the Ukrainian Information Centre (UIC) as the source. However, upon investigating, we only managed to identify only some kind of Internet provider. It appears they may be suggesting that they, too, found the story on the Internet. We submitted a request, but as of two days later, we had not yet received a response.
(Update: 40 minutes after our initial publication, we received a response. 
UIC stands for the Ukrainian Information Centre, and the centre indicates that the story was submitted to them by readers.) 
The following day, Ukrainsky Pohliad (Ukrainian View) also reported on the matter. In contrast to other media outlets, they included an additional photo: the reverse side of the letter, bearing the name "Andriy P." 
This detail is very important, as it helps explain why the people who found the bottle assumed the letter was written by a boy. 
The description provided by Ukrainian View beneath this news piece reads, "Received from ukr.resistance mail." At first glance, one might assume this refers to the National Resistance Centre, but they have a different email address.
The media outlet itself clarified that it had obtained this information "from a representative of the resistance movement in the occupied territories."  
"We won't disclose anything else about the source as terrible consequences could result for people living under occupation." the editorial board said.
As for the earlier post, the activists of Turn off Russian provided the following statement: 
"We had it in our inbox for a day." 
Turn off Russian, an organization with friendly ties to us, received the email from the resistance movement at the same time as we did. The young and enthusiastic persons at their end didn't hesitate to release it the same day. In our case, we deliberated for another day, wondering about the potential repercussions and whether our actions might lead to someone's arrest. 
Counter propaganda?


Interestingly, on August 20, a similar news report was disseminated by russian media. According to their account, inhabitants of the village of Yalik, situated near Istanbul, stumbled upon a bottle containing a message.
"They were surprised to discover a letter inside written in russian. It was revealed to be a message from a seven-year-old boy, Dima Pankov, from Crimea," wrote the occupiers.
In their report, the russian media couldn't resist clarifying that the bottle had journeyed from Russia to Turkey. But, even if their narrative regarding the bottle is true, the russian media is lying, because Crimea is Ukraine.
To date, we have been able to ascertain that the russian news piece about Dima Pankov preceded the Ukrainian news regarding "Andriy P." If this is true, it's possible that "Andriy P." could be linked to Ukrainian counter-propaganda.

We hope that you, our dear readers, will assist us to dot the I's and cross the T's in this story. We look forward to reading the comments under our Facebook post, especially from individuals who are personally acquainted with those who discovered the bottle. If such a bottle does indeed exist