What we should avoid saying about missing soldiers
We have received requests from our readers to verify information being circulated on Facebook regarding the search for missing soldiers. The message advises that certain actions should be avoided if a soldier goes missing, such as posting a photo of the soldier in uniform on social media, disclosing the military unit's number, or sharing the missing person's last known location, etc.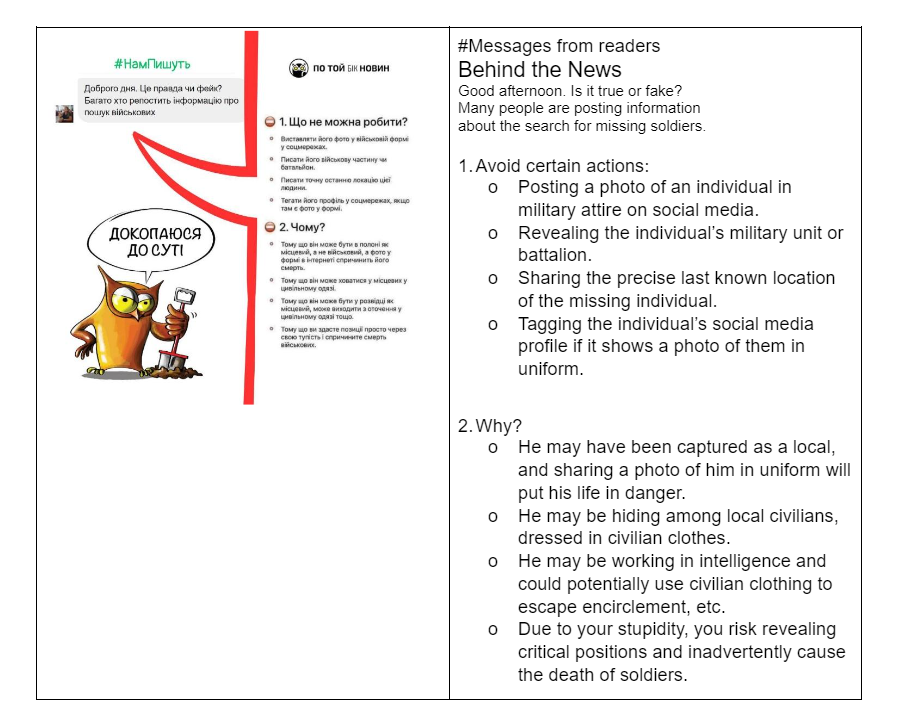 This information is true. The Ministry of Defense and the Ombudsman's Office have repeatedly requested to refrain from posting pictures of missing individuals on social media. Deputy Minister of Defense of Ukraine, Hanna Maliar, specifically elaborated that the soldiers who have gone missing could potentially be held captive disguised as civilians or hiding in the temporarily occupied territories, searching for a chance to return. Inadvertently aiding the enemy is a possible consequence of posting photos and information about such individuals.
Hanna Maliar explains that sharing information about missing individuals on social media can reveal crucial details about their societal importance, political stance, place of service or past employment, family members, relatives, and friends. This could potentially encourage the occupiers to investigate the individual further, complicating the process of their exchange. 
Similarly, posting information on social media regarding the call signs of Ukrainian soldiers, military units, locations, and details about their capture may put not only the captured soldier but also their fellow comrades at risk. 
Regrettably, it's not uncommon for fraudsters to take advantage of the detailed information shared by grieving relatives in search groups on social media. These fraudsters may contact the relatives by phone and offer to provide information about the missing person in exchange for a reward. In some cases, they may claim that the soldier is held captive in a hospital and requires financial assistance for treatment. The fraudsters' stories may vary, but the outcome remains the same: the relatives transfer money, and the individual who claimed to have information disappears without a trace.
We understand that when family members have been searching for any information about their missing son/brother/husband for months, they may feel desperate and be willing to do anything to obtain answers. However, we would like to emphasize that only law enforcement agencies, the Security Service of Ukraine, and the Commissioner for Missing Persons in Special Circumstances are responsible for locating missing or captured Ukrainians.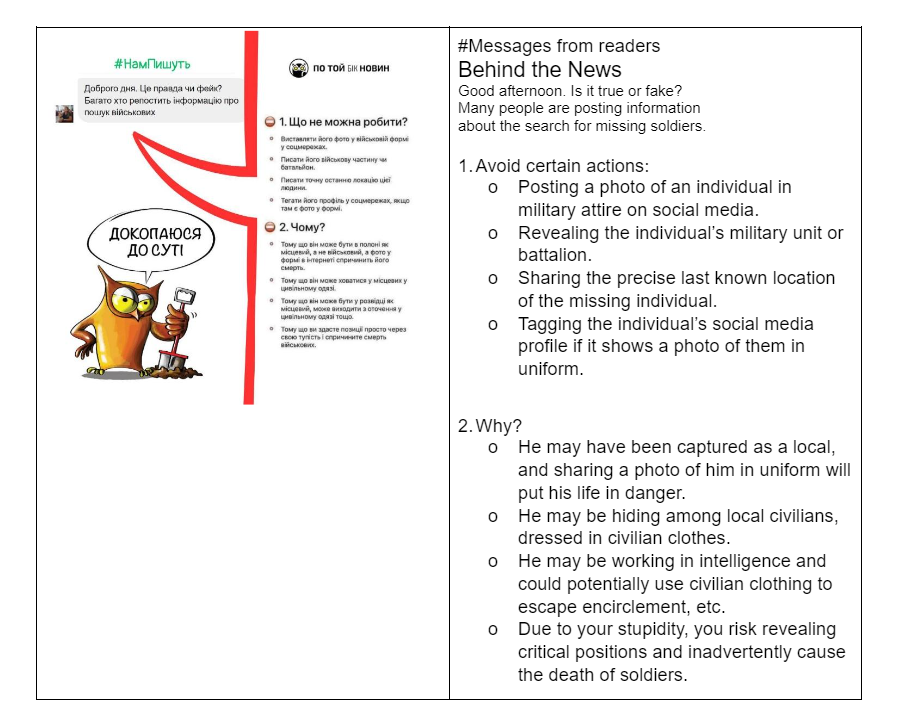 In the event that your loved one is officially declared "missing", we urge you to contact the following phone numbers:
Consultation hotline on the treatment of prisoners of war of the Coordination Headquarters for the Treatment of Prisoners of War: 0954127424 (weekdays from 10:00 to 16:00). Address of the reception center: 37 Spaska Str., Kyiv 

National Information Bureau: 1648, (044)287 81 65.

Joint Center for the Search and Release of Prisoners of War at the Security Service of Ukraine: +380676508332, +380980873601

National Police: +380894201866 

International Committee of the Red Cross: 0 800 300 155
It's worth noting that the Coordination Headquarters for the Treatment of Prisoners of War has created a roadmap that outlines the steps families should take in cases where their relative, who is enlisted in the Armed Forces or law enforcement agencies, has gone missing, been captured, or killed. The information is divided into sections and provides guidance on how to act in various situations.
Lastly, we would like to emphasize that any information containing personal data of a serviceman who is missing or in captivity may pose a risk to their health or life, as well as to the exchange process. Therefore, it is crucial to consider the potential consequences before sharing such information on social media