Shooting oneself in the foot again: social media platforms misidentify executed soldier
Shooting oneself in the foot again. It appears that people have failed to learn from the Tymofiy Shadura case, where a Ukrainian soldier was mistakenly declared dead instead of Oleksandr Matsiievskyi, who was killed by Russians for saying "Glory to Ukraine". Now, a photo of Stepan Voronovskyi is being shared on social media, with claims that he is "the same soldier who was beheaded by inhumans while filming the crime"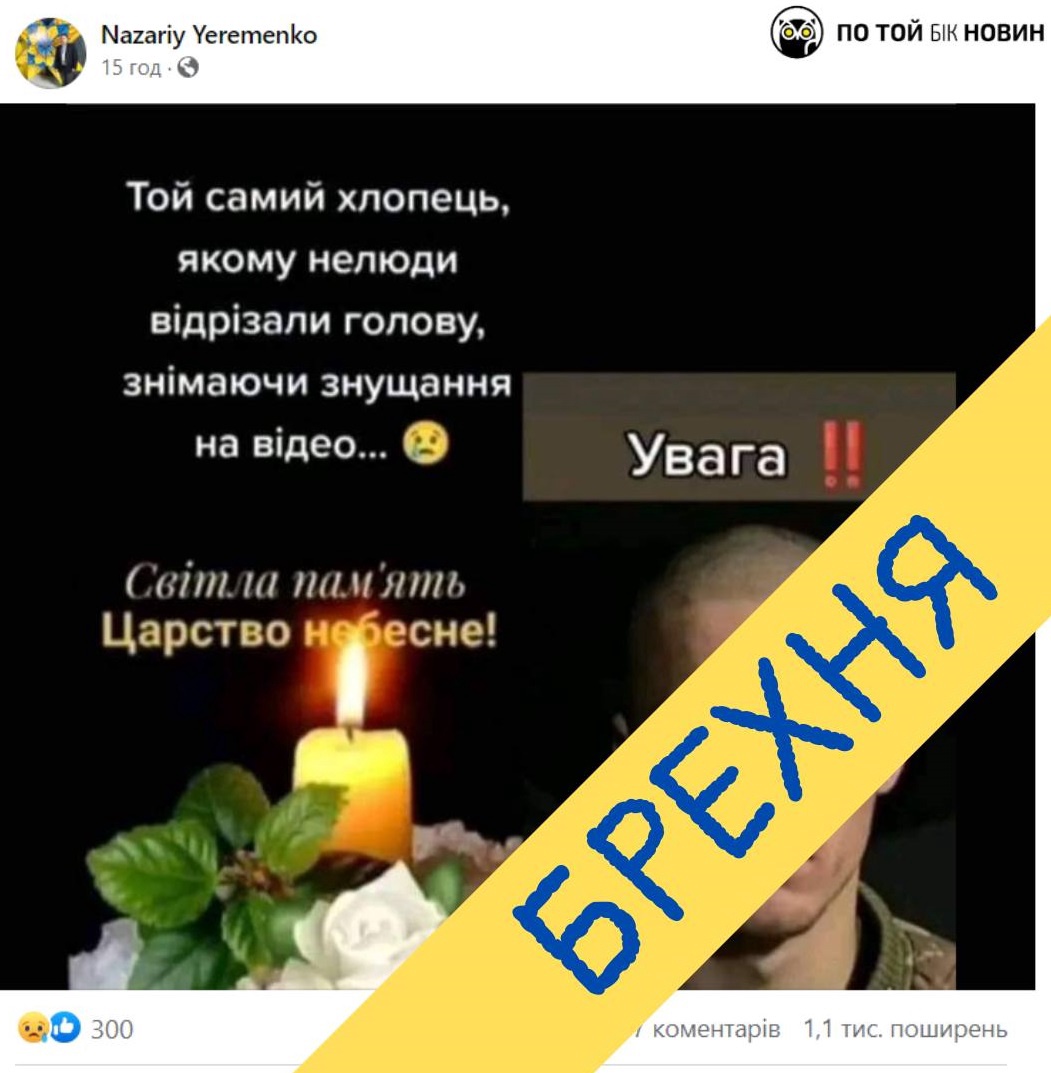 This is a cynical lie. Stepan Voronovskyi was killed in Donetsk Region in January 2023 due to artillery shelling.
The author of the post is openly hyping. This fake has received more than 1,100 shares, several hundred likes and dozens of comments. Despite being informed that the photo was of a different person, the author of the post didn't provide the correct information, and limited the number of comments under the post. However, the post was deleted before the publication of this refutation. The sister of the soldier in the photo denied that the photo depicted her brother.  
"My brother, Stepan Voronovskyi, died on January 23 in Krasna Hora due to a shelling injury. HE IS NOT the man in the video showing the execution of a soldier. I'm asking people not to spread unverified information" she urged.
She also mentioned the volunteer organization @black_raven_volunteer, which was created in honor of her brother to assist the brigade in which he served.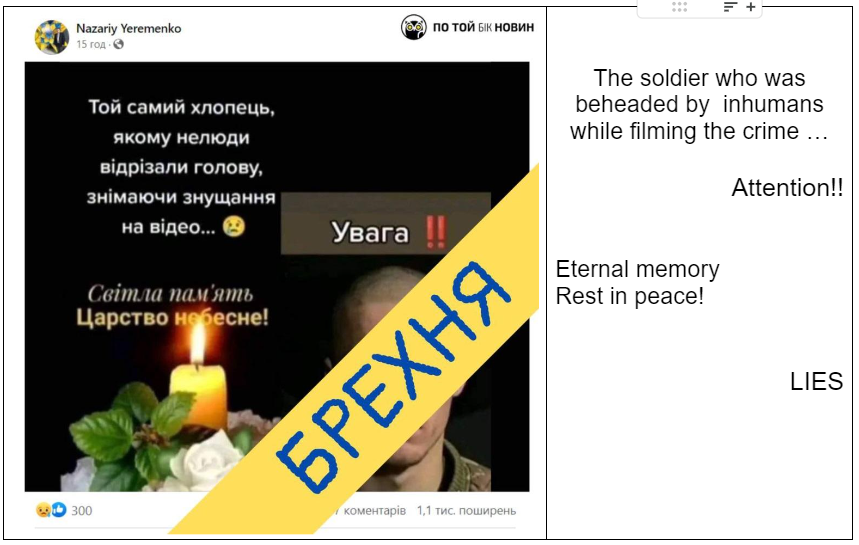 The most striking aspect is the comments made by many Ukrainians under the false post. Despite being informed that the photo is of a different person, they ignore it, as seen in the following direct quotes (spelling errors preserved):
"It's not important who it is; what matters is the fact of torture

... May all those who died and were tortured rest in peace

."

"There's no difference; they were all someone's sons and sacrificed the most valuable thing for our freedom and liberty - their lives...

."

"What does it matter who it was, whose head was cut off; he's still a human being; he's a Ukrainian. How long will it be like this?"

"It doesn't matter who it was. What's important is that he's no longer with us. He was sloterd [slaughtered]. It's impossible to axept [accept] this

."
Why we should avoid sharing such sensitive information
Reminding relatives about a loved one's death, whether real or imaginary, may cause additional trauma. Sharing such information doesn't provide any useful help to the family, and they will receive official news of the death if it is confirmed. 10/100/1000 posts on social media can be overwhelming and insensitive, and if the news turns out to be false, it can cause even more emotional distress for the family. Therefore, sharing such posts on social media is irresponsible, and we should consider the feelings of other people.
Previously, when the photo-video of Matsiievskyi was shared on social media, Deputy Minister of Defence Hanna Maliar called for respect for the victims and their families: "Social media and tact are incompatible. Nevertheless, it's better to wait until the brigade (commander) officially confirms the identity of the deceased." The family of the soldier whose execution was shot on camera also requested that his name not be revealed