Fake investigation into zelenskyi family's luxury villa
In the run-up to Ukraine's Independence Day, a fake story emerged about the "luxury villa of Volodymyr Zelenskyy's family", supposedly acquired "through humanitarian aid". This story gained considerable traction.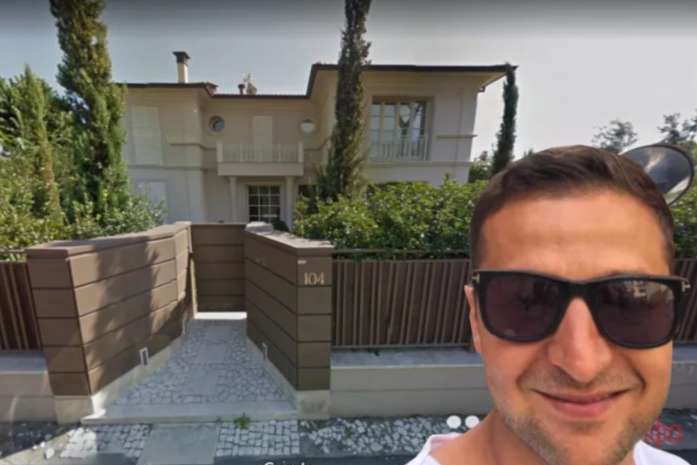 Ukrainian intelligence aims to take proactive measures in warning about the next phase of the information war against Ukraine, specifically focusing on the issue of total corruption. But, these topics have been subjects of discussion for some time. The novelty lies in their dissemination to an English-speaking audience.
For instance, in anticipation of Ukraine's Independence Day, a fake story emerged concerning the "luxury villa of Volodymyr Zelenskyy's family," purportedly acquired "through humanitarian aid." This story gained substantial traction.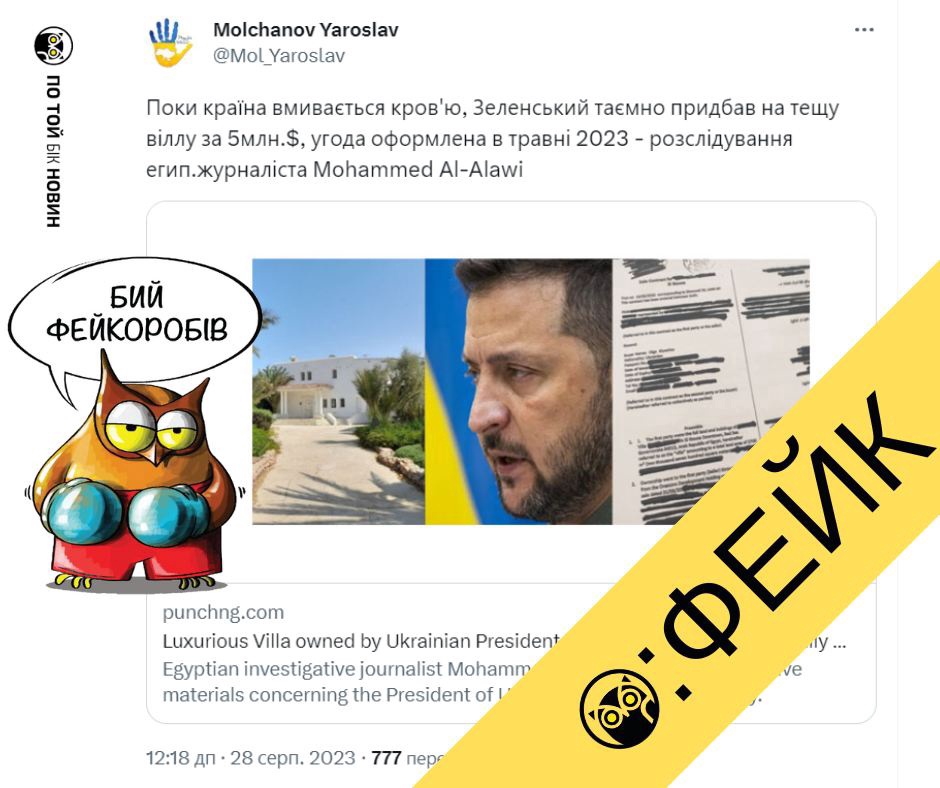 It was presented as an investigative report, ostensibly conducted by Egyptian journalist Mohammed Al-Alawy. According to his statements, as reported by the Nigerian newspaper Punch, the documents in his possession affirm that Zelenskyy's family, particularly Olga Kiyashko, whose name matches that of the Ukrainian president's mother-in-law, acquired a luxurious villa in the "millionaire city" of El Gouna for $5 million.
To fit the narrative favoured by Russian propagandists, the text incorporates the opinions of a supposed "political scientist," Abdulrahman Alabbasi, who unexpectedly concludes that "a relative of the president used humanitarian aid funds, provided by the West to Ukraine to counter Russian military aggression, to purchase the property." Predictably, this tale is now being widely disseminated through Russian trash websites. 
All of this is a lie. 
Here are the primary indicators of falsification:
  The document exhibits notably poor quality, and its origin remains unexplained.
  The name and surname transliteration are in the Russian language, whereas a Ukrainian passport would render the name as Olha Kyiashko, not Olga Kiyashko. 
The document states Olga's nationality as Ukrainian, a detail that does not appear in Ukrainian passports.
Our research on the Internet reveals that all references to the "investigative journalist" Mohammed Al-Alawi pertain solely to this document. No other investigations or articles by him exist.
It's the same story with the alleged political scientist Abdulrahman Alabbassy and Punch journalist Arthur Nkono.
The YouTube channel that hosted the video version of this pseudo-investigation has been deleted. During its existence, it was only a few days old, evidently created solely for disseminating this particular piece of "fake news."
The publication itself lacks any evidence, presenting only a photocopy of a poor-quality document and a photograph of a building. The text is replete with subjective assessments, unsubstantiated claims, and "pie in the sky" assumptions.
  No credible news outlet has reported on the purported "luxury villa of the Zelenskyy family," nor have they referenced sources like Punch or Mohammed Al-Alawi.
Collectively, these elements suggest that the so-called "investigation" has been fabricated. It's part of Russia's ongoing information war against Ukraine, aimed at framing Ukrainian authorities for corruption in order to dissuade Western nations from providing financial support to Ukraine.
As a reminder, we previously highlighted that Facebook's algorithms show greater leniency towards paid advertising. This has been actively exploited by Russian propagandists who purchase and disseminate advertisements featuring hostile narratives, often under the guise of bots. These narratives are subsequently promoted by Mark Zuckerberg himself in our news feeds!