Ukrainian media get into a mess over advertorial whitewashing the reputation of a suspicious hustler
Since February 2023, several online media outlets have been spreading news about "an anonymous enthusiast's efforts to dismantle Ukraine's black market for drug trafficking". Additionally, numerous city lights and billboards promoting the initiative of a "benefactor from Mexico" have emerged throughout the capital and other cities, offering hundreds of dollars in exchange for reporting on illegal drug traffickers. The campaign, scheduled to commence on May 1, prompted Behind the News to conduct an investigation into the individuals involved, investigating the connections between advertorials and the russian Interior Ministry. Read on for more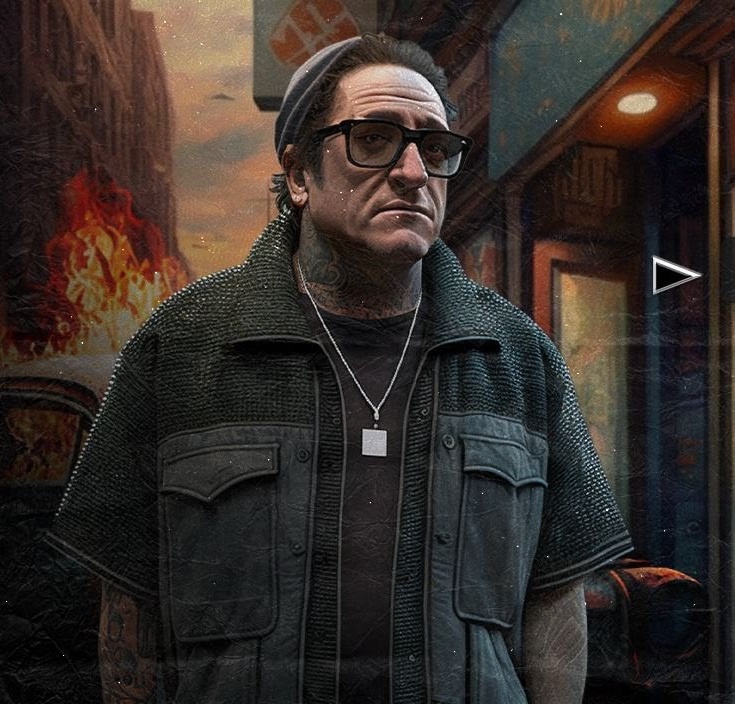 What's this all about?
In February 2023, Stas Dombrovskyi, a controversial blogger from Odesa, shared a video on YouTube, presenting an initiative to his subscribers where they could provide information about drug dealers, drop-off drug deliverers, and drug laboratories in exchange for monetary compensation. The blogger's proposed rewards included $1,000 for reporting a drop-off drug deliverer or trafficker, and $3,000 for identifying a trafficker operating in the war zone. An anonymous benefactor intended to fund these rewards. Originally scheduled to launch in April, the campaign was subsequently postponed until May 1 and titled "Catch a huckster - get cash". 
Advertorials?
News about the campaign was covered by media outlets such as Podrobnosti, Obozrevatel, UNIAN, Apostrof, Komentari, Fakty, and Vesti.ua. Unfortunately, these materials were not marked, but they appear to be paid-for content. Why? Firstly, they all contain nearly identical texts regarding the initiative's launch and include links to Dombrovskyi's video.
Secondly, in February 2023, the Institute of Mass Information published a monitoring report for February 2023. The report identified familiar names from the previous paragraph among the anti-leader websites disseminating a significant number of materials with indications of being pre-ordered: Obozrevatel, UNIAN, Glavcom, Gordon, RBK-Ukraine, and Interfax-Ukraine.
What is the danger of paid-for content not explicitly marked as "on a commercial basis"? The IMI explains that such materials serve various purposes, such as promoting goods or services (commercial advertorial), gaining political advantages (political advertorial), and whitewashing reputations (image advertorial). However, they all share a singular objective: to manipulate public opinion.
In the case of the "Catch a huckster - get cash" campaign, we're dealing with an image advertorial aimed at reputation whitewashing. Whose reputation? More about that later.
Where did the idea come from?
When it comes to manipulation, all roads most often lead to Russia, and the "Catch a huckster - get cash" initiative is no different. We discovered information about similar campaigns in Russia, titled "Catch a huckster - save a life", dating back to 2011.
In 2018, the russian Ministry of Internal Affairs initiated a nationwide campaign in Russia, which appears to have become an annual event. What was the campaign's purpose? It involved urging russians to combat drug trafficking by calling specific phone numbers to provide information about drug dealers and laboratories. Does this sound familiar? The only distinction is that they didn't offer monetary rewards from the so-called "Mexican".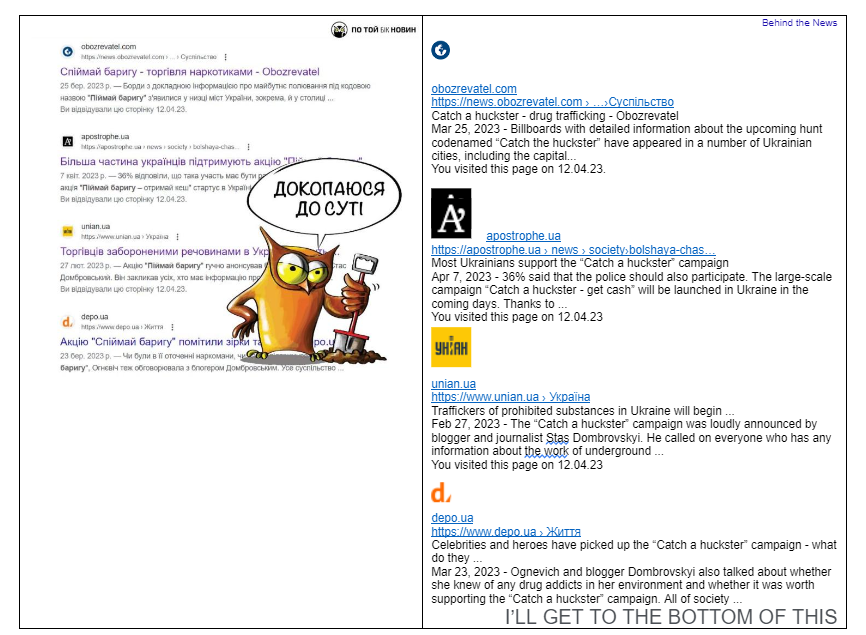 Secret benefactor from Mexico?
In the beginning, the Odesa blogger's video promised a reward from an anonymous businessman to anyone who exposed the "drug dealers". The only information given about this person was that he was from Mexico (later clarified as "living in Mexico").
However, a Unian article later revealed the name of the "benefactor" to be Yehor Levchenko.
A simple search yields conflicting information about this individual. Several lesser-known media outlets feature articles portraying Levchenko as a businessman, volunteer and philanthropist. These articles emerged around the same time as the news about the "Give up a huckster" campaign. They suggest that Yehor Levchenko (also known as Burkin) arrived in Ukraine as a prosperous entrepreneur with substantial wealth. Allegedly, he established an office in Kyiv, where he supposedly engaged in activities related to the IT sector and cryptocurrency. However, this "successful business" supposedly became a target of repression by law enforcement forces. Consequently, the case was reportedly closed, and Levchenko himself is now residing abroad (in Mexico), where he's said to be "fighting to restore his business reputation".
All of these materials indicate that they were prearranged and appear to have the purpose of whitewashing Yehor Levchenko's (Burkin's) name in Ukraine. Furthermore, we discovered online information that goes beyond Levchenko's alleged "philanthropic activities". Several sources claim that Yegor Levchenko (Burkin) is the mastermind behind an international drug syndicate known as Khimprom. Since 2014, this syndicate has supposedly established a comprehensive logistics network for the production and distribution (through drop-off drug deliveries) of illicit drugs and synthetic psychotropic substances in Russia, Ukraine, and other countries of the former Soviet Union. According to these reports, Levchenko reportedly arrived in Ukraine with the assistance of the russian special services and operated the drug syndicate from there until he drew the attention of the SBU (Security Service of Ukraine) in 2019.
While we cannot independently verify the accuracy of this information, it's worth noting that Yehor Levchenko (Burkin) is listed as wanted by the SBU in the MIA database. He is wanted under several charges, including Art. 255, part 1 (Creation of a criminal organization, management of such an organization or its structural parts), Art. 209, part 3 (Legalization (laundering) of proceeds of crime considered to be committed on a particularly large scale), and Art. 307, part 3 (Illegal production, manufacture, acquisition, storage, transportation or shipment for sale, as well as illegal sale of narcotic drugs, psychotropic substances or their analogues).

Investigation 
Yesterday, Hroshi media outlet released a video in which the authors embarked on an investigation into the origins of the "Catch a huckster" campaign. However, this "investigation" didn't yield any concrete details. Blogger Dombrovskyi refrained from disclosing the name of the primary benefactor, but announced an upcoming interview with him. The interview, according to the blogger's statement, would "unveil the workings of the scheme". The video also mentions the name of Yehor Levchenko, but once again, the authors suggest waiting for the blogger's interview with the benefactor to ascertain what's true and what's false.
Conclusion 
What can be deduced from this entire questionable narrative surrounding the "Catch a huckster - save a life" campaign? It appears that this initiative and the articles that have been paid for are merely a tactic to whitewash the reputation of an individual with a criminal history. Therefore, we recommend relying solely on the information disseminated by resources on the so-called "white list" of reputable media sources. 
It is essential to verify the original source of information and not consider the opinions of experts or opinion leaders as unquestionable facts. Always exercise critical judgment when evaluating everything and anything you learn