Close friends from childhood who went to the front together, and lost their lives in battle
They were close friends from childhood, then compadres, went to the front together, and lost their lives in battle. Today we find out if this story is actually true.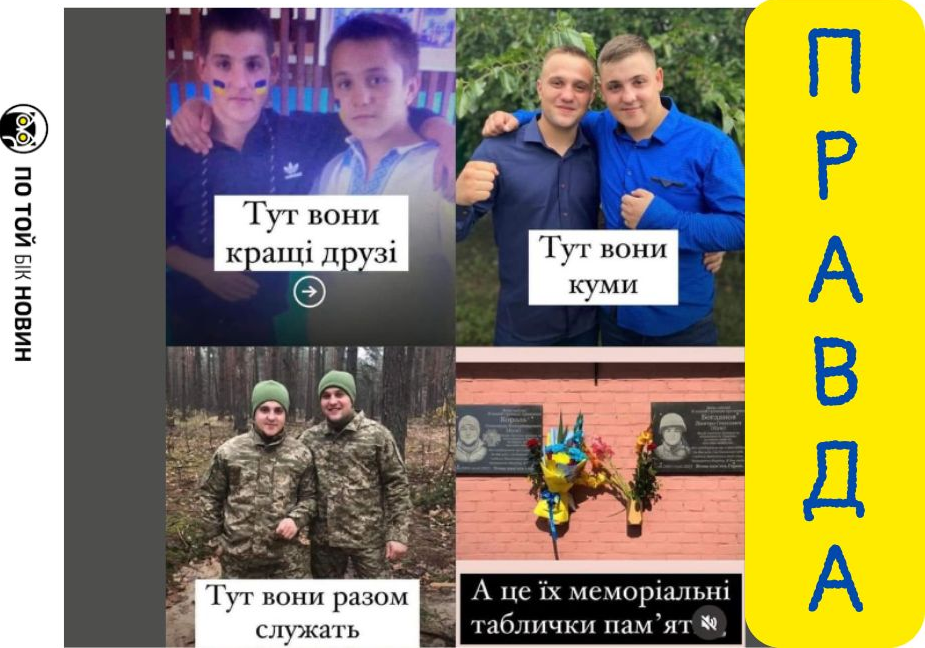 This week, we're exclusively addressing your requests. A journalist and one of our recent readers, Iryna Synelnyk, whom we recently wrote about, has asked us to verify an emotional post that is currently circulating widely on social media. She expresses doubt about the authenticity of this collage, which she came across on a russian social media platform.
The collage features two young men who died in the war. The author of the post emphasizes that while many young people in Ukraine today engage in leisure activities, many other young men are defending Ukraine against russian aggressors and making the ultimate sacrifice. 
To underscore this contrast in lifestyles, the user includes a photo of two Ukrainian soldiers who were lifelong friends, compadres (one was godfather of the other's child), and travelled to the front lines together, where they died in battle. This collage has been shared by nearly 4,000 people and has garnered over 5,000 likes.
 We checked this information to determine whether it was true or just another fake piece concerning the Ukrainian military.
 It's true. The photo indeed portrays Ukrainian soldiers who lost their lives in the battles in the Donetsk Region (read: killed by the russians). The fallen soldiers are: Oleksandr Korol https://bit.ly/3rlbk0h and Dmytro Bohdanov https://bit.ly/48cUAca. 
As the post asserts, these two men were not only long-time friends but also compadres, and commemorative plaques were installed in their hometown of Halaiky, situated in the Bila Tserkva District of the Kyiv Region. 
Notably, besides general information about the two men, the word "Kum" (compadre) is engraved beside each of their names.
Ihor Oleksandrovych 

9 hrs

Every evening in the centre of Koriukivka, groups of young people return home, laughing loudly after yet another night of revelry, jokes, songs, and exuberant shouts that echo through the entire town… Have they forgotten the price of a peaceful life? Isn't it the responsibility of the patrol police to enforce order? Where are they?

 

TRUTH 

Here - they're the best of friends

Here - they're compadres

Here – they serve together

And here – the commemorative plaques
 Let us provide you with further insights into the lives of these defenders and their pre-war life.
 Dmytro Bohdanov, born on April 7, 2001, was from the village of Halaiky. He completed his education at Halaiky secondary school and pursued further studies at Volodarsk vocational school, specializing in electricity. After getting married, he settled in Kyiv, where he worked at the Main Department of the National Police. 
On January 17, 2023, Dmytro sustained severe injuries in the village of Volodymyrivka in the Donetsk Region. He succumbed to his injuries in a military hospital on February 19, 2023. His mother, wife, and one-year-old son were left without a son, father, and husband.
 Oleksandr Korol was born on April 30, 2002 in the village of Halaiky. He spent his childhood years in the Tetiivska community. Following his graduation from Halaiky secondary school, Oleksandr pursued his education at the Rzhyshchiv Vocational School, where he earned a degree in gas and electric welding. On November 15, 2022, he voluntarily enlisted to defend Ukraine. Oleksandr was killed on May 26, 2023, during a battle in the village of Volodymyrivka in the Donetsk Region. He leaves behind his mother, father, and a younger brother.
Dmytro and Oleksandr were friends from their early years, and they remained inseparable:
 "Best friends, compadres, brothers-in-arms... Men who walked side by side from childhood, who did not hesitate to defend their homeland and offered the most precious of all - their young lives," wrote Bohdan Balahura, the head of the Tetiiv City Council.
 Please send us any dubious information via private messages for verification. Your topic may be featured in one of our next articles