How russian occupiers deny the shelling of Zaporizhzhia
Today, the occupiers shelled Zaporizhzhia twice. Around 5:00, the russian military struck residential areas with seven S-300 missiles. Residential buildings suffered serious damage. The residents were trapped under the rubble. Around 11:00, while the rubble was being cleared after the morning missile attack, several explosions were heard again, and civilian infrastructure was damaged. Russia refuses to take responsibility for these attacks and blames Ukraine. But, when russian lies are exposed, the kremlin changes its rhetoric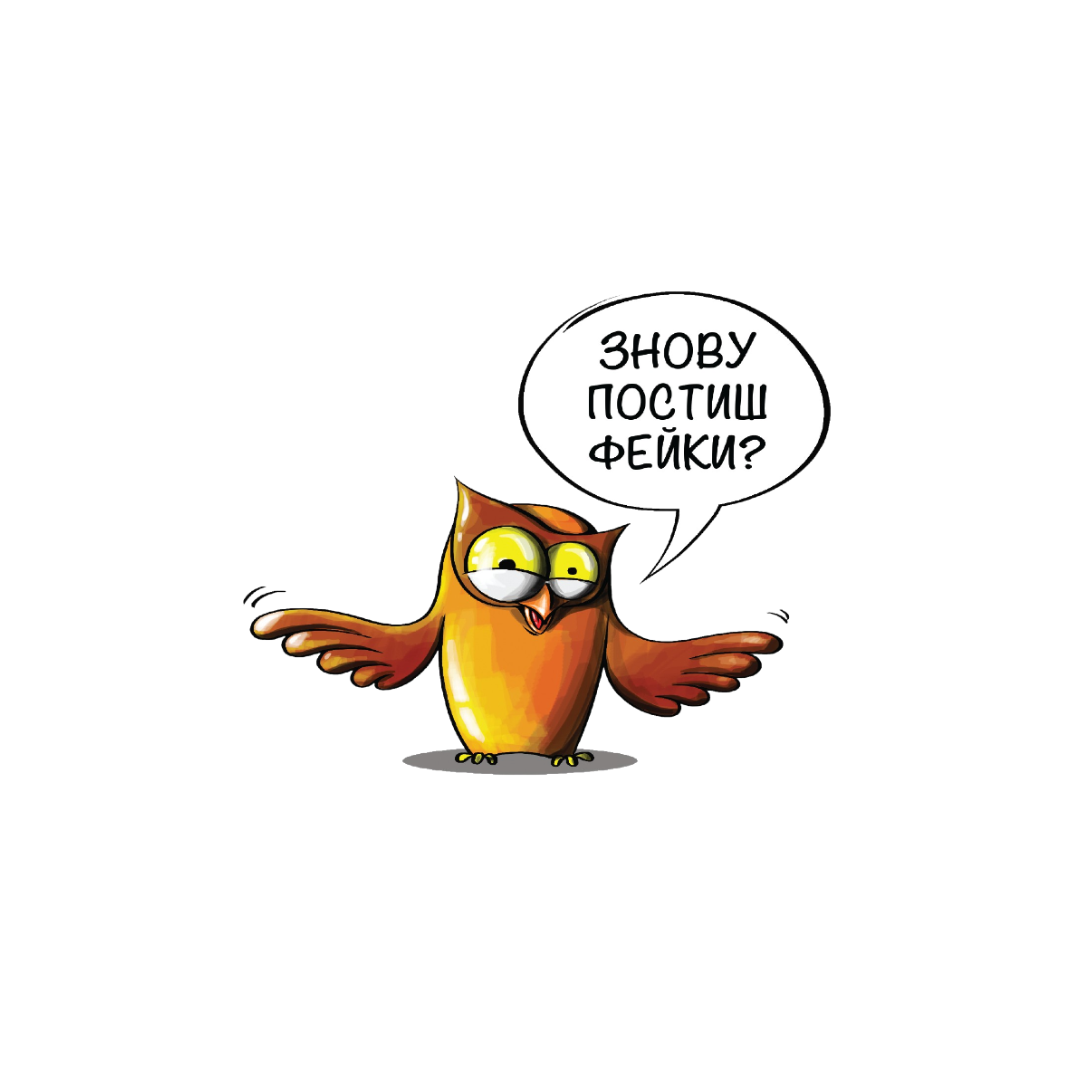 After the first missile strike on Zaporizhzhia, russian propaganda outlets, pro-russian telegram channels and columnists spread the word that it was the Ukrainian Armed Forces that had shelled residential areas, but then they changed their rhetoric and reported that the missile strikes weren't aimed at residential buildings, but at "an incredible number of military equipment." 
This isn't the first time russian propaganda has used such fakes to cover up its crimes.
Thus, the ground was prepared an hour before the attack. At four in the morning, one of the propaganda sites, referring to Zaporizhzhia-based collaborator and propagandist Volodymyr Rohov, wrote that the Ukrainian military had intensified shelling of Zaporizhzhia Region after the "referendum".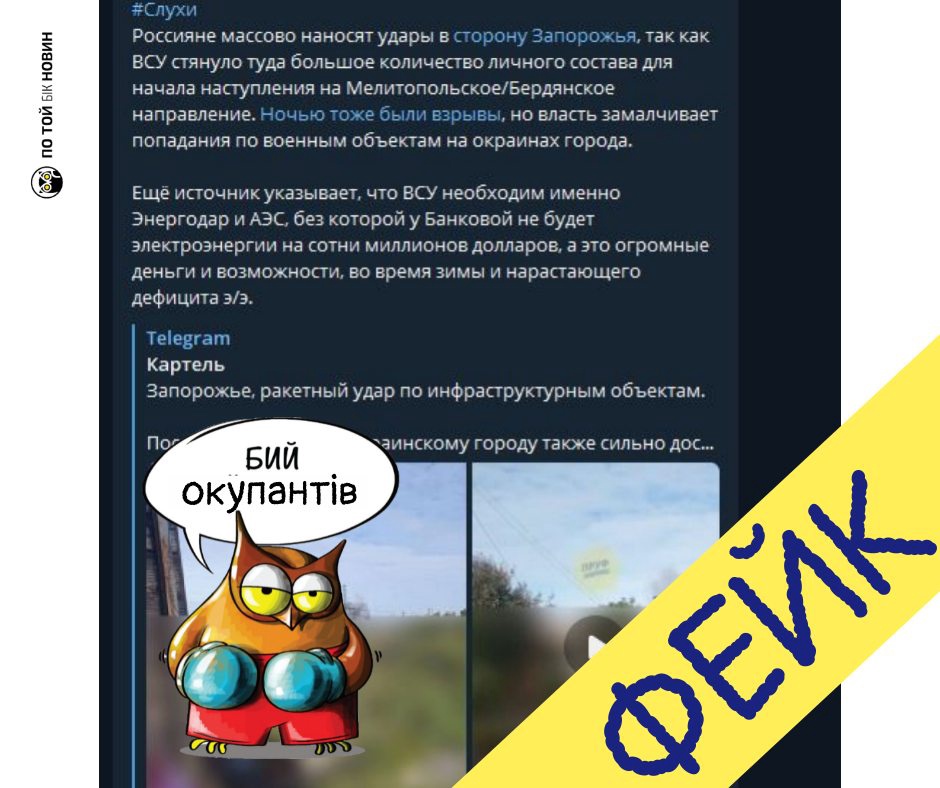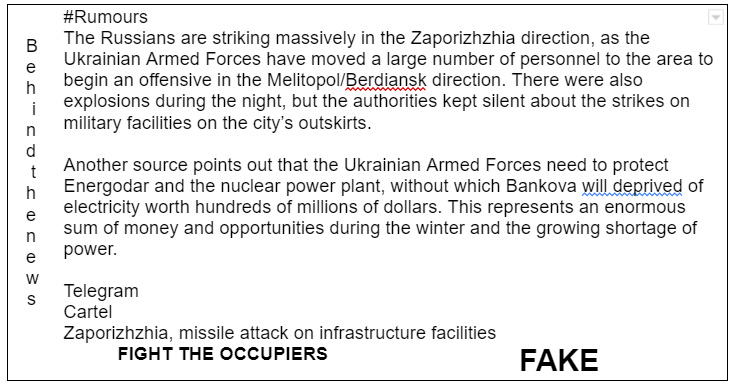 "We see that hatred for Zaporizhzhia is intensifying, and the shelling of civilian infrastructure is increasing."
The occupiers obviously wanted to pass off their shelling as attacks by the Armed Forces of Ukraine, who allegedly decided to "take revenge" for the pseudo-referendum. However, the city itself isn't under occupation, and there was no fake voting. This news wasn't "picked up", so the propagandists failed to shift the blame to the Armed Forces of Ukraine.
Then, the occupiers changed their rhetoric and issued a traditional fake about the shelling of "ammunition and rocket and artillery depots." Before the second strike on Zaporizhzhia, the same collaborator, Rohov, stated that the Ukrainian Armed Forces had allegedly brought more weapons and people to the contact line than during the entire "special military operation." State propaganda outlets picked up Rohov's words. Pro-russian telegram channels began posting "insider information", namely that the russians were massively striking in the Zaporizhzhia direction, not at residential buildings, but allegedly at a large number of Ukrainian army personnel, who were preparing an offensive in the Melitopol/Berdiansk direction. To top it all off, the Ukrainian authorities have allegedly remained quiet about the strikes on military facilities on the city's outskirts.
Photos and videos from the scene show that high-rise buildings and private homes were damaged. In particular, the Secretary of Zaporizhzhia City Council, Anatoliy Kurtiev, reported that more than 40 multi-storey buildings had been damaged. The entire entrance was destroyed in two buildings, while the roof, windows and water supply were severely damaged in one of the buildings. Also, 11 private-sector households in the city were destroyed.
In addition, many people were injured - 12 patients were taken to medical institutions in Zaporizhzhia, and nine people were hospitalized. One patient is in serious condition. Among the wounded are two children – young boys aged 4. Three people have been reported dead.
After this information appeared, the pro-russian public adjusted their message. They didn't hide the fact that the strikes were aimed at the civilian infrastructure of Zaporizhzhia. Still, in the eyes of the occupiers, residential buildings became civilian infrastructure objects "used by Zelensky's militants and foreign mercenaries as military bases and places to store weapons and ammunition."
You can see what these "military bases" actually look like in the stories published by Suspilne: Zaporizhzhia, whose journalists were present at the site of the missile strikes: 
 https://t.me/suspilnezaporizhzhya/7872, https://t.me/suspilnezaporizhzhya/7873, https://youtu.be/Ppgtk6BHuTk
Rescuers and workers continue to clear the rubble